Member since: Aug 2012
01375 489444Email
Services provided: Air Conditioning Service , Computer room Air Conditioning, Office Air Conditioning, Classroom Air Conditioning, Air Conditioning installation, Air Conditioning maintenance, Refrigeration service, Refrigeration installation, Refrigeration repair and maintenance, Refrigeration cabinet sales
For all your air-conditioning and refrigeration requirements, Rayvac Airtemp Ltd is a one stop shop taking the stress out of conditioning you building. From a basic split system...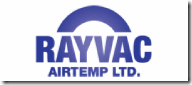 Compare
Member since: Jan 2018
0845 094 2324 Email
Services provided: Heating (Commercial & Domestic)
Commercial Heating, Plumbing & Air Conditioning ...

Compare
Member since: Jul 2013
0114 297 5909Email
Services provided: Catering equipment