Half of school districts face places crunch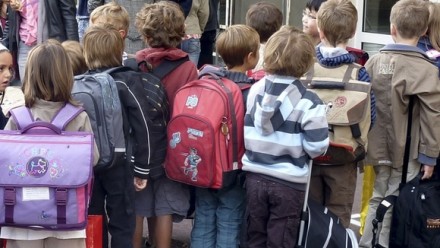 Almost half of England's school districts will have more primary pupils than places within two years, the Local Government Association (LGA) has said. Some local areas will face a 20% shortfall in places by 2015, according to analysis of official data from 2012. Rising birth rates began the squeeze but uncertainty over funds has made it worse, the LGA says. The government says it has more than doubled funding for new school places.
05 September 2013
The LGA's analysis of local authority data on school-place needs suggests about 1,000 of the 2,277 local school planning districts will be over capacity by 2015-16.
Overall, two thirds of local authorities predict they will have more pupils than places by the beginning of the 2016 academic year.
The New Schools Network, which helps groups set up their own schools, said free schools were well on track to deliver more than 250,000 new places by 2015.
The group's director, Natalie Evans, said the doubling of the number of free schools was good news for parents.
"With open free schools hugely popular with parents, and teachers increasingly acting as the driving force behind new schools, there is real momentum behind the growth of free schools," she said.
Source: BBC News
Incensu says:

Demand for school building, facilities, equipment and resources is set to increase over the next few years as will the need for reputable education suppliers and contractors. Such companies are encouraged to prepare for this increase in demand.