Teenage Cancer Trust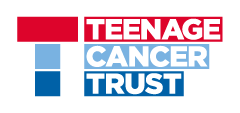 Teenage Cancer Trust relies solely on donations and is the only UK charity dedicated to improving the quality of life and chances of survival for the six young people aged 13 to 24 diagnosed with cancer every day Traditionally treated alongside children or elderly patients at the end of their lives, young people often feel extremely isolated during treatment, some never meeting another young cancer patient.
The charity builds specialist units within NHS hospitals that bring young people together to be treated by teenage cancer experts in a place designed just for them. Teenage Cancer Trust has two specialist units in London at University College Hospital, which support young people from across London and the Home Counties. The Teenage Cancer Trust Hub is a specialist out-patient facility for 13-24 year olds within the hospital's new cancer centre and the Teenage Cancer Trust in-patient unit for 13-19 year olds is within the main hospital building.
Both units are unlike ordinary cancer wards and are designed to feel like places young people might naturally hang out. The walls are bright, the furniture is funky, there might be pool tables and a jukebox and there's always a place to watch films and surf the net.
On-going support and donations are now needed to maintain these units, fund specialist staff and support other services the charity offers to young patients.
Why teenagers?
• 6 teenagers a day are diagnosed with cancer.
• Teenagers are prone to some of the most aggressive forms of cancer.
• Cancer often spreads much quicker in teenagers. This is because their bodies are growing and changing and teenage hormones actually work against them, often causing tumours to grow quicker and bigger than in other age categories.
• At least 25% of young people have to visit their GP at least four times before they are diagnosed or sent for specialist tests, leading to significant delays in treatment that can be detrimental
• Young people often feel incredibly isolated from their friends and family, which can lead to anxiety and depression.
• 64% of young people fall behind with their studies as a result of having cancer and 29% leave education all together.
• Cancer survivors have significant delays in starting employment and are often employed in lower skilled jobs compared to their peers.
To find out more please visit our website.
Teenage Cancer Trust also run a FREE education programme for schools
This is available to all schools and colleges across the UK. The aim of this programme is to increase young people's awareness of cancer and arm them with knowledge about healthy living during a one hour presentation provided by one of our Education & Advocacy Managers. The programme is delivered in an engaging and positive way and, as well as providing invaluable guidance for students, also contributes to the on-going demands for 'Healthy Schools' status. There is absolutely no obligation to fundraise this is purely educational. The presentation is ideal for PSHE days, longer assemblies, workshops etc and is very uplifting and engaging. Far from morose!

The programme covers many aspects including both the physical and emotional impact of the disease on young people as well as ways to stay healthy and minimise the risks of cancer later in life. Some of the topics we include in the programme are outlined below:

1. Why it is important to be aware of cancer and the impact it can have on patients as well as families and siblings
2. What is cancer?
3. Common teenage and young adult cancers
4. Issues relating to diagnosis
5. How to spot the signs of cancer
6. Treatment
7. The impact of cancer:
• on the body
• on the mind – social and psychological issues, such as body image & self image
• relationships
• fertility
• post treatment issues – at work, financial, etc
8. What is important to young people with cancer?
9. Taking responsibility for your own health and well-being
10. The Human Papillomavirus (HPV) and cervical cancer (optional)

A greater insight into the Education and Advocacy teams work and a full lesson plan can be found on our education pages on our website.
We rely solely on donations and receive no statutory funding at all. If you think you would like an education talk or to get involved in some exciting fundraising in your area please contact your Regional Fundraiser Vicki Bowden on 07852 385 362 or vicki.bowden@teenagecancertrust.org.