20 Tops Tips For Selling To Schools in 2022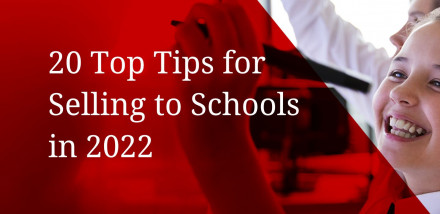 Increase your business share of the education sector by reminding yourself of our top tips for selling to schools.
01 January 2022
1. Increase your online presence
A high level of online presence is essential in 2022 for savvy suppliers who understand the way schools source products and services. When asked about their preferred medium for sourcing suppliers 78 per cent of schools said they prefer to search the internet. A professional looking website is crucial as is a mobile responsive design as many heads and school business leaders will be searching suppliers on the go on phones and tablets both in and out of school.
2. Decide whether 'old school' selling is best value for money for your business
Just 5 per cent of schools welcome direct sales calls suggesting that suppliers should consider its value as a means of selling to schools. A higher percentage (30 per cent) may consider other forms of direct marketing such as brochures, printed directories and letters, however, it is certainly worth comparing the cost of this type of marketing with digital marketing in relation to its return on investment.
3. Add your business to the National Register of Education Suppliers at incensu.co.uk
76% of schools prefer to search for suppliers when it suits them rather than being sold to. Suppliers are encouraged to ensure they can be found at the point when schools are searching for their products and services. Schools use the National Register of Education Suppliers to find, check and compare suppliers and it's essential for companies targeting the education sector to have a compelling profile that provides rich, objective information about their business on this recognised platform for school procurement. Use the Incensu Registration Mark to show schools you can be found on the National Register of Education Suppliers.
ADD A FREE PROFILE FOR YOUR BUSINESS TO THE REGISTER NOW
4. Enable schools to benefit from collaborative purchasing
With such pressures on school budgets, suppliers are being urged to 'step up' and help schools embrace collaborative purchasing. Kevan Walsh, managing director of school energy broker Zenergi, understands and says "it is vital that suppliers make it as easy as possible for schools to collaborate on the buying of high quality, good value goods and services. This approach will help school budgets go further and makes sound business sense, giving school suppliers access to a bigger customer base." Suppliers are encouraged to use their Incensu profile to outline to schools how they can support them with collaborative purchasing through their business." More specifically suppliers should propose collaborative purchase offers for multiple schools, such as those in a Multi-Academy Trust, using the Incensu dashboard.
5. Show off your accreditations
Almost 80 per cent of schools now compare service costs and quality of suppliers as an in-house exercise. More information about suppliers is available via the Incensu website. Suppliers are missing a trick if they fail to promote their education and industry accreditations to schools. The National Register of Education Suppliers at Incensu has a specific section for suppliers to display accreditations, a feature schools find vital when justifying spend to stakeholders. Suppliers demonstrating BESA membership, ISBL Approved Partner or ASCL Preferred Supplier status for example or industry accreditations such as CHAS, Contructionline or RoSPA give schools greater confidence in the procurement process, especially where larger budget spend is involved.
6. Share your testmonials
Over the past 12 months over 70 per cent of schools have used word of mouth as a key way of sourcing suppliers. What others say about your business is far more powerful than what you say about yourself. Suppliers are urged to collect testimonials from previous customers and share them in the dedicated section on the National Register of Education Suppliers. The Incensu platform also facilitates ratings and reviews from schools giving suppliers a quick and easy way to drive business through word of mouth and springboard onto work with other education organisations.
7. Become an approved supplier
A range of associations and local authorities have their own approved supplier lists which many schools refer to when sourcing suppliers. Despite the increase in academies and the autonomy this brings in terms of spending 70 per cent of schools will still consider using approved local authority lists to source some of their suppliers over the coming year.
8. Develop your social media presence
Using Twitter, Facebook, LinkedIn and Google+ is an effective way to engage with schools and education groups. The following groups, hashtags and communities are a good place to start: Twitter's #ukedchat, #uksbmchat, #sltchat, @middleleaders, @incensu - LinkedIn's school procurement, headteachers, school business managers and Google+'s UK Education, UK school procurement and UK school finance. It's well worth remembering however that these networks provide an opportunity to open up the conversation with schools and build relationships rather that give them the latest sales patter.
9. Get to grips with Google Adwords
With 64 per cent of schools doing a general internet search for some of their suppliers last year it is easy to see how important your position in search engine results is in getting business from schools. Other than investment in search engine optimisation a quick way to ensure you are found when schools are searching is to run a pay per click campaign - and let's remember that 78 per cent of survey respondents prefer to search the internet for suppliers.
10. Attend trade shows
There are an increasing number of education trade shows and exhibitions throughout the year and in different parts of the country. The key ones to look out for are The Schools and Academies Show, BETT, The Northern, Southern and Eastern Regional Education Shows, The Nursery and Primary Show, Childcare and Education Expo and The Higher and Further Education Show to name a few. Trade shows and conferences are an effective way of developing face to face relationships with school leaders and education influencers bearing in mind well over a third of schools said they would consider trade shows as one way of sourcing suppliers this year. While exhibiting at trade shows and conferences can cost more than other forms of education marketing it can also prove a good return on investment if executed and followed up well. Incensu members receive generous discounts off many of the leading education trade shows saving suppliers well in excess of their Incensu subscription.
11. Know your target market
Be clear on the people in schools you need to target as this will be different according to your particular business. Do you need to target the overall financial decision-makers such as headteachers or school business managers or are you targeting the influencers such as heads of department? You may need to identify the phase you are concentrating on such as key stage 4, early years or higher education or perhaps a subject area such as science, technology or the arts. Once you have identified your target more specifically you can be more focused on your marketing.
12. Consider your message
Re-think your message for this year. It needs to take into account any changes to the education system this year or any developments in your industry. Consider whether your message is compelling for schools. Ensure your message conveys how you can bring value to a school giving a school reason to buy from your business over your competitors. Your 'value for money' message needs to be on point in 2022 as financial pressures continue to be at the forefront of school leaders' minds.
13. Understand your reputation is your most prized asset
The reputation of your brand should be your most prized asset so be good at what you do. Encourage reviews on your Incensu profile – It's what schools look at before spending. 99 per cent of schools are willing to recommend, rate and review suppliers for their work with their school in order to help other schools in their procurement decisions. Make the most of every opportunity to build your reputation within the education sector and in your locality.
14. Know your competition
Education suppliers need to know their competition both within their industry and geographically. Search the Incensu register to see who else sells your products or services to schools. Follow your competitors on social media and view their websites. Use search engines to find similar companies. Get to know them at trade shows or through trade bodies and associations. All this should help you establish how you compare and give you ideas on how to raise your game.
15. Be open, honest and realistic
A key part of any business relationship is managing expectations and advising the client where you feel a project could hit problems, or it could be improved; this is no different when working in education. If you feel a project has unrealistic deadlines, budget or isn't an effective solution, communicate this. Many public sector contracts go overdue and over-budget for the simple reason that communication wasn't as good as it should've been. It's also important at early stages to identify and communicate issues like these because if the project does run into difficulty there will naturally be an investigation into the cause. Take it as a given that schools are paying you for your expert and specialist knowledge and expect you to provide advice that would avoid any issues.
16. Manage the project and the account
Schools are, unless you're working with independents - public sector organisations and as such are process-driven and have themes of accountability and structure. They'll expect clear timescales, expectations and specifications and they'll expect regular updates, possibly in a standardised form. Don't take this requirement for information, meetings and action points as anything other than necessary. The decision-maker you will be working with will have expectations on them from their management and stakeholders and they'll be accountable for the project. Feeding them relevant, succinct information will greatly help their job and in turn improve your relationship with them. Public sector clients can feel demanding when compared to their private-sector colleagues, but once you have a system of providing them information and know what to provide each time, life will become much easier.
17. Remember - Schools don't buy your products & services but people in schools do
Whatever you're doing, remember the user. Education organisations have a number of different audiences and users, each with varied demographics, expectations and needs. Understanding these and how they're segmented is key to delivering a great end-user experience. It's essential to see past a school as just an organisation but instead, focus on building relationships with the individuals who are making the financial decisions within each school.
18. Develop a diverse marketing mix
Start out every year by prioritising your marketing mix as follows: 1. Exhibiting to schools, 2. Online advertising 3. Content production 4. Direct marketing. Start with a plan of how you will exhibit to schools - an online profile on the National Register of Education Suppliers at incensu.co.uk is the most cost effective way to exhibit to schools 24/7 ensuring you are found when schools are searching, then consider if your budget allows for attendance at education trade shows and if so decide which to attend. Incensu members receive generous discounts and benefits off exhibiting at The Schools & Academies Shows in both London and Birmingham, The Northern Education Show in Manchester, The Southern Education Show in Basingstoke, The Eastern Education Show in Newmarket, The Childcare and Education Expo events in London, Manchester and The Midlands and The Education People Show in Kent. Follow this with a clear strategy for online advertising via social media and Google AdWords - set the budget and plan your campaigns carefully. Next allocate an investment of time and money on the creation of compelling content, employing a copywriter or PR consultant is well worth investigating if you do not already have one in-house. Using education marketing experts at a well-established company can have a much greater impact and success rate, including for direct marketing, than attempting it in-house if you don't have the expertise.
19. Tender intelligently
The tender process can be a real stumbling block for many companies, but there's no need for it to be a difficult stage. This part of the process is a necessary stage in working with a new supplier and requires everything you'd expect when forming a new relationship. Essentially schools are looking for security, professionalism and reassurance here. Naturally, you need to be capable and cost-effective for the task at hand, but it's important to convey your experience, references and testimonials, your processes and how you manage critical things such as risk, quality and project management. Include relevant documentation (including insurance certificates) to ensure all bases are covered - most tender documents will ask for these as a matter of course. Answer the questions and don't over-complicate. Decision-makers will want to know you're trusted, recommended and capable.
Educate!
In many cases, your field of expertise is not going to be the expertise of your target audience. Schools will be looking to you as their supplier to provide them with reliable knowledge of your industry. Setting yourself up as an expert in your area is crucial to building the trust a school is looking for. Content marketing is essential here and in the current climate widely considered as one of the most effective ways of marketing not only in the education sector. Provide good quality content by sharing your expertise in your field and provide information that will encourage schools to find out more. Offer free resources to initially engage more customers and then develop your relationship with these customers.
NO PROFILE ON THE NATIONAL REGISTER OF EDUCATION SUPPLIERS? - ADD A FREE PROFILE FOR YOUR BUSINESS NOW
Source: Incensu education marketing resources
Incensu says:

Need more advice? Get in touch via our contact us page.