QA Education Magazine article explores how Incensu ends school procurement lucky dip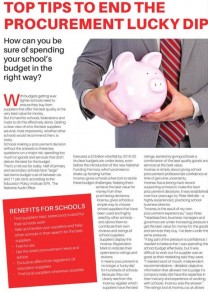 Article published in April '17 edition of QA Education Magazine discusses how school leaders are rating their suppliers with great effect
20 April 2017
Incensu ends the procurement lucky dip
How can you be sure of spending your school's budget in the right way? Incensu offers the solution.

With budgets getting ever tighter schools need to ensure they buy from suppliers that offer the best quality at the very best value for money.
But it's hard for schools, federations and trusts to do this effectively alone. Getting a clear view of who the best suppliers are and, most importantly, whether other schools would recommend them, is tricky.
Schools making a procurement decision without the answers to these key questions run a major risk: spending too much on goods and services that don't deliver the best for the budget.
That's a risk too far today. Half of primary and secondary schools face "large" real-terms budget cuts of between six and 11 per cent, according to the Education Policy Institute (EPI). The National Audit Office forecasts a £3 billion shortfall by 2019-20.
Its clear budgets are under stress, even before the introduction of the new National Funding Formula, which promises to shake up funding further.
Incensu gives schools a free tool to tackle these budget challenges, helping them achieve the best value for money from their purchasing decisions.
Incensu gives schools a simple way to choose school suppliers that have been used and highly rated by other schools – and allows them to contribute their own reviews and ratings of school suppliers. Suppliers display the Incensu Registration Mark to indicate their openness to ratings and reviews.
It means procurement is no longer a 'lucky dip' for hundreds of schools because they can clearly see from the Incensu register which suppliers have the best ratings, earned by giving schools a combination of the best quality goods and services at the best value.
Incensu is simply about giving school procurement professionals confidence at a time of genuine uncertainty.
Incensu has a strong track record supporting schools to make the best procurement decisions. It was established over four years ago by Peter Melville – a highly experienced, practicing school business director.
"Incensu is the result of my own procurement experiences," says Peter. "Headteachers, business managers and governors are under increasing pressure to get the best value for money for the goods and services they buy. I've been under the same pressure.
"A big part of the pressure is confidence: I needed to believe that I was spending the school budget effectively, but it was difficult to work out if a supplier was as good as their marketing said they were.
"I needed word of mouth, independent recommendations - detailed, objective information that allowed me to judge if a company really did have the expertise in their industry and experience of working with schools. Incensu was the answer."
The ratings tool at Incensu.co.uk allows schools to openly share their experiences of products and services, grading suppliers on value for money, quality and reliability.
Hundreds of schools have contributed their reviews and ratings of school suppliers to the Incensu register, which now contains over 700 education suppliers. The figure grows daily.
"The Incensu register is increasingly regarded as the richest, most objective rating and review tool for anyone procuring goods and services for UK schools - from SBMs procuring outsourced services for the whole school and middle leaders purchasing subject specific equipment, to teachers sharing their views on school trip destinations or the latest classroom app," Peter Melville adds.
"We're encouraging every school in the country to rate and review companies they've already used and search for new suppliers. It's a powerful way of sharing knowledge and best practice and supporting each other in the procurement process."
There is a real appetite amongst school leaders and business managers to share their ratings and reviews. In an Incensu survey of school budget holders every respondent said they were willing to do this to help other schools in their procurement decisions.
"There are numerous benefits for schools to rate and review their suppliers," says Steve Munday, headteacher of William Edwards School in Essex. "It not only increases confidence in potential suppliers, especially when large contracts and significant sums of public money are involved, but it gives tangible justification to our stakeholders for selecting particular suppliers. There's nothing like finding a tried and tested school supplier with great reviews to reassure everyone involved in the procurement process."
For the companies that use Incensu this process of verifying suppliers is good for business too. Tom Southern, head of marketing at fire and health and safety risk assessment experts Safesmart says that because suppliers can provide school testimonials, ratings and reviews and easily display education and industry accreditations they have added credibility with schools. "Being on a trusted, reliable site like Incensu means that prospective clients can check out our credentials and experience and read what other schools have said about our work," he says.
Benefits for schools
• Find suppliers tried, tested and trusted for their schools work
• Rate and review your suppliers and help other schools in their search for the best suppliers
• Free to use
• Get the latest procurement news and advice
• Exclusive offers from registered UK education suppliers
• Find local suppliers whenever possible
Source: QA Education Magazine - April '17 edition
Incensu says:

All UK Education Suppliers are called to add their profile to the National Register of Education Suppliers at incensu.co.uk demonstrating they are transparent and open to ratings and reviews from education sector professionals.