UK Education Marketing Guide 2020/21 'Covid' Edition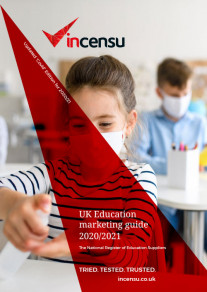 Essential education marketing guide for all school suppliers updated and revised for 2020/21. Includes advice and guidance on changes to education marketing to best thrive during the pandemic and beyond through recommended changes to marketing channels and messaging.
09 November 2020
Discover more about the UK Education Budget, get top tips on selling to schools whether you are a new entrant to the sector or a well-established national supplier and explore the wide range of marketing opportunities from valued Incensu partners even during the pandemic. There have been big changes across education this year so it's even more important to keep abreast of developments.
Source: DOWNLOAD THE UK EDUCATION MARKETING GUIDE 2020/21 'COVID' EDITION
Incensu says:

Add a free profile for your business on the National Register of Education Suppliers - Join free today

VIDEO: Discover how Incensu can help your business reach 25,000+ school budget holders - Play video