UK Education Marketing Guide 2020/21 'Covid' Edition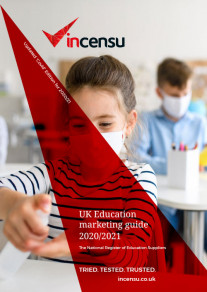 At Incensu we have updated and revised our essential education marketing guide for 2020/21 to include the latest advice and guidance on changes to education marketing.
09 November 2020
Scroll down to download the guide!
Everything You Need To Know If You Supply To Schools
Whether you are a new entrant to the sector or a well-established national supplier, this comprehensive guide could be the key to help you thrive during the pandemic and beyond. Here you can discover more about the UK Education Budget, get top tips on selling to schools or maybe explore the wide range of marketing opportunities from valued Incensu partners even during the pandemic.
There have been big changes across education this year so it's even more important to keep up-to-date of developments.
The Free Guide Your Business Needs
We know that for the last academic year, business has been extremely challenging for a lot of suppliers due to the lockdowns and partial or full closures of many schools and education facilities nationwide. Whilst some businesses may not have fared well and managed to successfully pull through these tough times, those who have been able to respond and adapt have been thriving whilst helping provide facilities with valuable tools for in school and online learning.
Just some of the great topics, areas and information that can be found in this guide include;
Education Marketing Channels
Due to how this year has affected the face to face aspect of engagement such as exhibitions, meetings, education tradeshows and the like, it is more crucial than ever to be cautious when allocating spending to marketing. Instead read our tips on how to find unexplored, untapped online and digital marketing channels from which to promote your business. This doesn't mean limiting yourself to just one channel, there are many effective ways to seek out new opportunities from email marketing, social media, your website, paid ads and of course, our National Register of Education Suppliers.
UK Education Budget
Find out more about how the year has affected the schools funding and why there might be extra money available in the coming months which could mean good news for your business. This guide provides advice on what schools will be looking for when searching for new suppliers and when making their procurement decisions.
How To Tender Intelligently
A necessary stage when forming a new relationship with a school, the tendering process can be a stumbling block for many who are unprepared. Find out everything you need to know about the tendering process and ensure that you have everything you need to set yourself apart from the crowd.
Top Tips
We have provided comprehensive information and top tips for a wide range of business types including;
Education Start-ups
Entrants to the education sector
Established regional education suppliers
Large, well established education suppliers
So, no matter what size your company is or how long you've been in business, we have a wealth of information tailored to you.
Join The National Register of Education Suppliers
When you join Incensu, our expertise, support and powerful online platform can help put your business in front of key decision makers throughout schools, colleges and universities, across the country.
Our partnerships enable suppliers to reach schools, budget holders and new customers in a way that they have access to reviews and testimonials from other education facilities who have used them before. This allows education facilities to read real, honest and truthful reviews of products and services that can help them feel more confident in the procurement process and where they are looking to spend their very important and limited budget.
If you would like to find out more about joining Incensu and would like to speak to one of our friendly advisors then do not hesitate to get in touch and we will be happy to help.
Source: DOWNLOAD THE UK EDUCATION MARKETING GUIDE 2020/21 'COVID' EDITION
Incensu says:

Add a free profile for your business on the National Register of Education Suppliers - Join free today

VIDEO: Discover how Incensu can help your business reach 25,000+ school budget holders - Play video