QA Education Magazine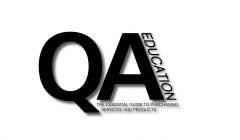 QA Education is a fantastic resource for schools across the country, bringing together some of the latest products and services, with timely and relevant news features.
Designed specifically for headteachers, business managers and local education authorities, QA Education is the must-have guide to everything that's anything in the education sector; from the latest digital tools to unmissable school trips and excursions that are guaranteed to get the thumbs up from pupils.
In addition to throwing the spotlight on popular products, the magazine is also an essential guide to news and topical features that aim to discuss some of the latest issues to face the sector, in addition to celebrating the many successes of schools across the UK.
The free magazine is published six times a year to ensure it is bang up-to-date with only the latest products on display, and to make sure you get the information you want, when you want it.
News stories are delivered with accuracy, enthusiasm and imagination, sharing the success stories of schools across the nation, as well as top tips from those in the know.
QA Education prides itself on its high-quality advertising that is eye-catching, informative and relevant to the reader's needs.
An Aladdin's cave of key contacts, QA Education is everything you need to make sure your school runs like clockwork, from the gates students walk through in the morning, to the canteen they eat in at lunch, to the teambuilding excursion they go on in the summer.
Everything from fire safety to live theatre shows in your very own school hall is covered in the magazine to enable you to access everything you will ever need to deliver your students a top-class education.
The magazine, which is published by Euromedia Associates Ltd, is also a fantastic opportunity for industry suppliers who are looking for a nationwide platform to promote their products.
Suppliers can work with our talented team of designers to ensure their message reaches the right people in the right way.
Each edition is divided into sections to make it easier for you, the reader, to find exactly what you are looking for.
Sections include the latest industry news, design and build, learning outside the classroom, sport, must-have resources, safety, continuing professional development and training, in addition to music and the arts.
QA Education strives to cover all aspects of education and help schools deliver fantastic opportunities by sharing inspiring stories, and the very best resources and services that the sector has to offer.
Incensu Top Tip:

QA Education Magazine is one of Incensu's valued Publication Partners. Incensu recommends this reputable magazine as an excellent way for education suppliers to advertise their products and services to the education sector through a high quality print publication. We recommend suppliers add the Incensu Registration Mark and School Ratings Badge to their adverts and editorial in magazines to give schools confidence in your business.