QA Nursery Magazine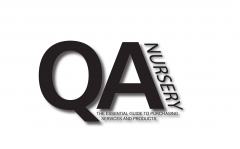 A solid education is something every child deserves, and QA Nursery is committed to helping children access a world-class education and facilities from an early age.
The magazine, which is published by Euromedia Associates Ltd once a year, is dedicated to early years education and is a fantastic tool for nurseries and pre-schools to access the latest industry news.
Pulling together current information on government legislation, Ofsted, and health and safety, QA Nursery is your one-stop shop to everything you need to know to get your nursery top of the class.
Here at Euromedia, we believe it is never too early to learn or inspire the next generation of scientists, doctors or artists, so we've gathered together some truly amazing stories to celebrate all that early years education has to offer.
We speak to industry professionals who give valuable advice on ways to encourage learning and prepare the ground for a lifetime of learning.
From harnessing the natural curiosity of a toddler to finding ways to enable even the most disadvantaged child access a top-quality education, we've got fantastic stories and advice that you can take and use to help your own pupils.
The magazine is divided into regular sections such as news, play therapy, safety, design and build, music and theatre, learning outside the classroom, hygiene, and computing to make it easy to follow and help you quickly access the information you need.
In addition to a host of great stories, QA Nursery is also the perfect place to find out more about the latest products and services available to you.
Our honest and informative advertising handpicks a range of impressive products and services that are most appropriate to early years' needs, all delivered in a clear way.
In addition, the magazine also provides the perfect opportunity for suppliers to access their customers through attractive and high-quality advertising to ensure their services are portrayed to the right people in the right way.
Businesses can work with our talented in-house designers to create eye-catching adverts that effectively capture the essence of your product.
All in all, QA Nursery is a great platform that brings together early years education providers with the services and products they need to deliver a state-of-the-art education and give children the best possible start in life.
Incensu Top Tip:

QA Nursery Magazine is one of Incensu's valued Publication Partners. Incensu recommends this reputable magazine as an excellent way for education suppliers to advertise their products and services to the education sector through a high quality print publication. We recommend suppliers add the Incensu Registration Mark and School Ratings Badge to their adverts and editorial in magazines to give schools confidence in your business.