Retrain Expo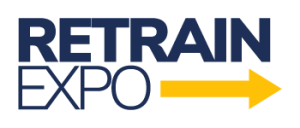 Running alongside Retrain Expo this year we have The Business Show, Working From Home Live, Going Global Live, The Sustainability Zone, and The Future of Work offering everything you or your business needs to successfully adapt to the ever-changing industry advances. Working From Home Live offers the tools and resources needed to work remotely.
We also have the return of Going Global, this show provides unparalleled education and information on trade agreements, international strategy, cultural and economic differences, and connects you with an abundance of business owners, under one roof, who are looking to invest abroad.
Our new shows The Sustainability Zone and The Future of Work have been created due to the emerging trends in the workplace revolving around tackling the environmental crisis and evolving technological advances.
With over 150 exhibitors, 60 seminars from business experts and unmissable masterclasses covering everything from coaching and training, and building your workforce, visitors will leave with all the resources needed to succeed in their industry.
So what are you waiting for? To register for your free ticket, simply head over to www.retrainexpo.co.uk
Incensu Top Tip:

Retrain Expo is one of Incensu's valued event partners. Incensu recommends this reputable show as an excellent way for suppliers to get support to rethink their business and their skills and explore opportunities to retrain and reskill to keep up to date in a rapidly changing business world. It also provides an opportunity to showcase your business to a wide audience across a range of sectors. Remember to include the Incensu Registration Mark and School Ratings Badge on marketing materials when exhibiting at trade shows to demonstrate your reputation.