Back to School 2022 - Top Tips for Suppliers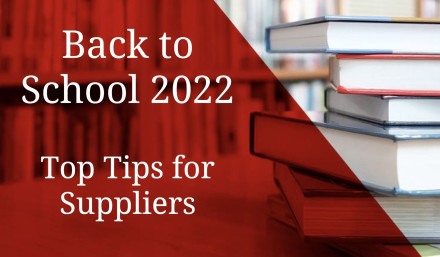 Significant changes in the education sector over recent years due to the pandemic and subsequent 'big recovery', the publication of the Schools White Paper in March 2022, the announcement of the teachers' pay increase and energy price rises - Incensu identifies the top considerations for suppliers this academic year in order to successfully sell to schools and grow your business in the UK education sector.
01 September 2022
Go digital
Over the last 10 years we've certainly seen a considerable rise in education technology to support learning in the classroom. However, the stratospheric increase in edtech as a result of the pandemic has brought schools well into the 21st Century for even those who were slower to the table. The most significant note here is the use of technology not only to support learning but also in the running of schools, collaboration between staff and suppliers and delivery of training to name a few and there is no sign of a return to more onerous analogue ways of doing things. Even if as a supplier, you are more hands-on and practical in your approach it's worth considering how to ensure the initial marketing, communication and planning options are digital in addition to any after-sales service and support in order to make the process smooth and efficient to match the digital upgrade to our schools.
Subscription Licenses
In line with going digital is the consideration of how you bill your school clients. Software companies were the trailblazers when it came to offering subscription licenses, with rolling monthly contracts becoming the norm. As you will no doubt be aware from your own purchasing habits, we have become familiar with subscription licenses for example Netflix, Amazon Music, Broadband services etc. and it's the same for schools. This is a great consideration for you as a supplier as a subscription service offering can provide you with a stable monthly income, a lower outlay for you to attract new schools and a likely longer ongoing contract.
Blended Learning
I reluctantly raise the topic of 'home-schooling' as I'm sure for many this is not something that you will want to think back to! However, it was certainly the start for many students of accessing some degree of learning online. For many schools there was a scramble to radically improve their computer network to support learning with teachers working around the clock to plan new virtual lessons, design digital content and prepare online assessments. While it seemed like mission impossible at the outset many teachers have seen the benefits that a blended learning approach can bring where students are able to learn via a combined style of traditional face-to-face lessons as well as electronic media. Students can now advance their learning through a range of styles at times to suit them while becoming far more independent learners. It's something that many teachers now welcome as integral to their teaching and should be a consideration for many suppliers when thinking about how best to provide education resources for schools.
Safeguarding and Privacy
Section 175 of the Education Act 2002 sets out the requirement for schools to safeguard and promote the welfare of children. The statutory guidance for schools and colleges on safeguarding children and safer recruitment is set out in the 'Keeping Children Safe in Education (KCSIE)' document and is well worth a read for suppliers so you are fully aware of what schools need to do to remain compliant. By being aware of the responsibilities of adults who spend time with children in education you can tailor your provision and marketing to reassure schools when working with your business. The same goes when considering data privacy – the protection of children's data and that of school staff is of paramount importance and will be essential for you to demonstrate you are helping schools remain compliant on this front.
Attendance Drive
With attendance a significant issue following return to school post lockdown there has been a need for many schools to act. Schools are encouraged to offer a clear vision of attendance underpinned by high expectations and core values. Schools are provided with additional government guidance on how attendance links with school improvement and safeguarding emphasising the role that the senior team, staff, governors and parents have in ensuring good attendance. Schools rely on a wide range of suppliers to support their work on attendance from edtech companies providing software to monitor and analyse data and track interventions to staff training to support behaviour, develop rapport and apply escalation procedures. An awareness of the importance of attendance and a clear vision of how your product or service can support schools to maintain a robust approach will be an important aspect of your education marketing this academic year.
Normality Returned
While we've seen some changes to the way UK schools operate as a result of the pandemic it's great to see an overall return to normality. What has been an exceptionally challenging time for many education suppliers as schools have battened down the hatches is now looking, not only more promising but very productive. Many schools are keen to implement many of the activities and events that their pupils missed out on such as school visits, guest speakers, workshops, leavers celebrations, school productions, concerts, parents evenings and open days. A reminder to schools of what they have missed and in many cases what some of their pupils have yet to experience will prove a valuable marketing asset.
Wellbeing, Behaviour and Mental Health
The impact the pandemic has had on the wellbeing of pupils and school staff can not be underplayed and much work is ongoing in schools to support this recovery. Promoting wellbeing is now fundamental as the impact on behaviour and mental health is well recognised. Suppliers with a good understanding of this and able to support schools whether through the promotion of play, outdoor learning, workshops, training, employee benefits or other innovative means have a vital role to play. With many schools making this a priority it's vital for suppliers to make their solutions clear in their communication with schools.
Return of External Examinations
Summer 2022 has seen the return of external examinations and subsequent results following two years of teacher-assessed grades. While 2020 and 2021 saw higher results than the previous years the grades for 2022 were significantly above pre-pandemic years (73% for grades 4/C in England compared to a high of 67% in 2019). With many schools publicising the impressive achievements of so many of their students they are not going to want to see a slump from the new higher percentages of students achieving top grades over the coming academic year. Consequently, they will be seeking the best opportunities whether that's through excellent recruitment, the best learning resources or outstanding facilities. Suppliers should ensure that the value of your business in terms of learning outcomes is expressed in no uncertain terms to school budget holders and influencers.
Schools White Paper
Following on from the government's Levelling Up White Paper in February 2022 the Schools White Paper was published in March 2022. Entitled Opportunity for all: strong schools with great teachers for your child, the first schools white paper in six years has some interesting points that Incensu encourages school suppliers to take note of.
A full academy system – Every school an academy. The Government now wants all schools to be part of a "strong trust" by 2030, or be in the process of forming, or joining one, by then. As a supplier, understanding the benefits of working with MATs, identifying growing MATs or newly formed MATs is a great way to work with multiple schools at a time and benefit from significantly larger contracts.
Higher standards in English and Maths – Suppliers able to support schools with learning platforms, resources, interventions, workshops, revision tools, books, literacy materials etc. should make it clear in their marketing that they are able to help with this emphasis for schools. However even where your business has a less obvious focus on English and Maths there are often solutions you provide that can be overlooked, such as help to improve behaviour so engagement and therefore attainment improves, the quality of the learning environment, staff training, attendance and a wide range of edtech that can support pupils as well as teachers in terms of planning, delivery, assessment, monitoring and analysis.
Schools open for longer – while the suggestion in the white paper is for all schools to be open for 32.5 hours per week it is not the intention to make this a statutory requirement. Having said this it is likely that Ofsted will make judgements about the school based on this and therefore school leaders will be mindful of ensuring that if their school is not already open this long that they increase their length of the day accordingly. The challenge for school leaders will be to balance staff wellbeing and additional provision and will certainly be an area that outside agencies and suppliers can help schools with therefore adding this in your marketing messages is a must.
Wide-ranging other measures including support for SEND children, attendance, behaviour, teacher and school leader development – To really understand how your business can help schools this academic year and therefore boost sales to schools it's well worth taking a closer look at some of the other measures that are mentioned in the Schools White Paper. Consider how your business can help schools solve some of the pressing issues for them in relation to provision for special educational needs, support for managing pupil behaviour and continuing professional development for staff.
Education Investment Areas – Identified as Cold spots: areas where outcomes are poorer – the Schools White Paper follows on from the Levelling Up White Paper which looks at addressing local and regional inequalities. As such 55 education investment areas have been identified and a subset of 24 priority EIAs attracting an additional £86 million and £40 million respectively. For some suppliers in these locations it makes perfect sense to target these schools to offer support with your products and services but also if your business is not restrained geographically then schools in these EIAs could be a sensible focus for your education marketing this academic year.
Teacher Recruitment and Retention
It's not new to hear of issues with recruitment and retention in schools but the term teacher recruitment and retention crisis is now frequently headline news in the education sector as the pandemic has exacerbated the problem. Teachers are leaving the profession in droves leaving a void of specialists particularly in Maths and Science but also across support staff such as specialist teaching assistants. A combination of teacher workload, pressures from government (including the new expectations around the Schools White Paper) the fallout from the pandemic alongside the demands of supporting the recovery have all taken their toll. School leaders are stuck between a rock and hard place. How do they remain compliant and actively focus on the changes recommended in the school white paper while balancing this with the needs of staff? It seems like an impossible ask yet as suppliers you are in a position to be able to provide some of the answers as schools seek the support of recruitment agencies, training organisations, education technology companies to make life easier for overworked teachers and employee benefits that promote a sense of value. Suppliers are encouraged to consider the challenges that schools are facing on this front in order to offer solutions. Think about how your products and services can help make a school more appealing to new staff through improved facilities, better behaviour management procedures, ongoing CPD opportunities or the latest education technologies that help reduce workload while improving attainment.
Public Sector Pay & Energy Costs
At the end of the summer term the government accepted recommendations from the independent School Teachers' Review Body (STRB) for an increase in teachers' pay of between 5% and 8.9%. With teacher recruitment and retention such an issue a competitive new starting salary has been announced to attract top-quality talent alongside an uplift for more experienced teachers. This coupled with soaring energy costs and inflation rates not seen this high in the space of a generation and schools find themselves in a very precarious position when it comes to managing their budgets. Peter Melville, Chief Operating Officer at SWECET Multi-Academy Trust commented "All schools now face an unprecedented energy crisis. Uncapped energy bills with no financial support provided by government means that the cost of heating and providing power to schools is approximately 300% more than a year ago. For a small MAT this could equate to between £200-400K extra expense if energy use remains the same. Simply, schools must be more energy efficient, avoid wasting energy and invest wisely in facilities." Asked to provide more detail on this to help suppliers, Peter adds "Schools will undoubtedly seek to improve their estates in terms of energy efficiency by installing PV solutions, thermostatic control systems, insulation and LED lighting and sensors, thus potentially providing opportunities for reputable suppliers in these industries."
It seems inevitable that even schools with healthy reserves face considerable challenges if they are not able to address the significant cost increases this academic year. Where suppliers are able to offer solutions to combat the squeeze on budgets such as income generation, cost reduction, automation and digitisation that save teachers and school leaders time and therefore reduce costs this is likely to be welcomed by schools.
While hearing the doom and gloom of school budgets from a school perspective it's well worth noting for suppliers that it remains the case that the UK education budget for the fiscal year ending March 2022 was £100.3 billion (4.2% of GDP) and for the year ending March 2023 is £104.9 billion. So, while it's clear that there is funding in the sector it's vital you position your business as 'essential' or 'stunning' if schools are going to spend their part of this allocation with your organisation.
It's also worth looking behind the headlines about tight school budgets and recognising that schools can also increase their allocated funding in a range of ways for specific purposes. For example, schools can also bid annually for additional Condition Improvement Funding (CIF), access Urgent Capital Support (UCS) or make use of a wide range of grants and fundraising opportunities. Incensu highly recommends FundEd as a source of information on education sector grants and fundraising not only for schools but also to empower suppliers to guide potential school customers towards opportunities to raise the money required to purchase your products and services.
Face to Face Exhibitions are back
Incensu recognises the value of a wide marketing mix when it comes to success as a supplier in the UK education sector. While having an impressive profile on Incensu's National Register of Education Suppliers and having a solid online presence by way of a visible website and active social media channels Incensu also highly recommends face to face exhibitions to its members. Having weathered the pandemic storm whereby companies had little to no opportunities for meeting school budget holders face to face it's great to see the return of local, regional and national exhibitions where suppliers can do just that to build trusted business relationships with schools. If you've yet to exhibit at an education show it's well worth adding this to your marketing strategy. The Schools and Academies Show returned in April this year to the ExCeL, London and is returning to the NEC, Birmingham this November. With these events attracting over 6,000 delegates collectively it gives suppliers a great opportunity to showcase your brand to education leaders, budget holders and senior buyers. BETT at ExCeL, London in March 2023 is the world's leading education technology show and another highly recommended event for edtech suppliers. For regional exhibition opportunities this year the Education People Show based in the South-East takes place in November with the Northern and Eastern Education Shows both returning in June 2023. For suppliers whose target audience is the Early Years or Primary sector the Childcare and Education Expo have events in the Midlands, London and the North in September 2022, March 2023 and July 2023 respectively. Incensu members benefit from generous discounts on exhibiting and sponsorship with valued partners making significant savings on your annual education marketing budget.
School Resource Management and Frameworks
In June 2022 the government published the policy paper 'School Resource Management: Building a stronger system'. The paper is aimed at all individuals in schools with responsibility for managing school resources with the aim of supporting schools and academies in making the best value procurement decisions. It relates not only to the physical products and outsourced services for schools but also to the teachers, leaders, facilities and technology across the learning environment.
Schools and academy trusts spend in excess of £12 billion a year on non-staff spend and the government aims to support schools in getting the best value from every pound by reducing cost and getting best value for money, supporting the management of estates, maximising the use of digital technology and improving the use of data to benchmark and inform decisions. They are helping schools achieve this by setting up the 'Get help buying for schools' service. In addition to the specialist support offered to schools with complex procurement they offer a range of routes to purchase goods and services through department-approved frameworks. Suppliers should ensure they become familiar with the types of frameworks available within the education sector, not only are there government frameworks but other frameworks, buying hubs and purchasing consortia. Going through the tender process and being awarded a place on a framework is a great route to market for many suppliers, particularly in categories such as catering, cleaning, ICT, furniture, facilities management, door access, fire alarm systems, education supplies or energy and utilities to name a few. As well as the government's buying service Incensu would also highly recommend Education Buying, Crescent Purchasing Consortium, YPO and Schools Buying Club.
Source: INCENSU EDUCATION MARKETING RESOURCE
Incensu says:

NO PROFILE ON THE NATIONAL REGISTER OF EDUCATION SUPPLIERS? - ADD A FREE PROFILE FOR YOUR BUSINESS NOW

Need help selling more to schools? Want to reach 25,000 budget holders in schools, academies & multi-academy trusts? Discover how ...